La Pierre Plantée
Local Events 2022
For up to date event list see link: Lot Tourism
Things to do
Hiking and Cycling
This is a great area for walking, hiking and cycling. Bicycle hire is also available. There are many tracks around the area and all the routes are covered by the IGN maps, local area maps are 2136ET and 2036ET. Unsure of the best local places to go, we can provide information on special local walks, taking in countryside, views and historical features.


Canoeing, Fishing & more...
The Dordogne River is a wonderful place for canoeing, trips can be taken of various lengths, also climbing & canoning. Fishing is very good on the Dordogne, and fishing permits can be obtained easily. Other activities are paragliding as tandem or solo with the local school. Quad bike riding on designate tracks through the countryside or hot air ballooning over the Dordogne Valley.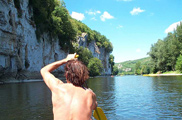 Cave Diving & Caving
Many of the cave dives are very local and there is an air filling station in the Lot. We have facilities at the house for you to rinse and dry dive gear. We can also accommodate the running of portable compressors. There are also many dry caves to explore. Local cave dives and Map.